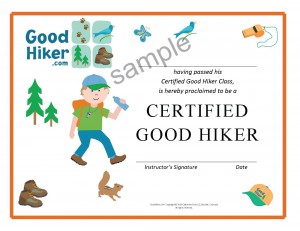 The Certified Good Hiker Kit teaches kids how to be Good Hikers — how to stay safe and tread lightly on the environment.

DOWNLOAD YOUR
CERTIFIED GOOD HIKER KIT

The $5 Kit includes a fun fill-in-the-blanks Good Hiker class, a guide for adults, and cool Certified Good Hiker certificates. The class covers what to bring on a hike, trail manners (don't pet the wild animals!), and why it's important not to wander away from your group (and what to do if you get separated).
To download the Certified Good Hiker Kit ($5.00; pdf format) click the ADD TO CART button. You can pay with PayPal or Google Checkout (or a VISA, MasterCard, American Express, or Discover card at PayPal). If you have a discount code, enter it after you click ADD TO CART.
(Please note that purchasing the Certified Good Hiker Kit indicates acceptance of our disclaimer and terms and conditions.)
The Kit is downloaded to you computer as a single pdf file, readable with Adobe Acrobat. You can then print the guide as well as several classes and certificates for your kids. (To order Kits for a large group or class, please contact Cathy@GoodHiker.com or call 303-543-2390.)
Don't have Adobe Acrobat? Get it here.
Thank you for your order, and happy hiking!
__________________________________________________________
All content copyright © 2011, by Catherine Dold, Catherine Dold LLC, Boulder, Colorado. May not be reprinted or reused without permission.