Welcome to all who arrived here from Claire Walter's fabulous blog Mile High on the Cheap.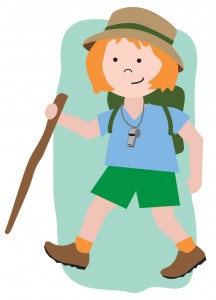 The Certified Good Hiker Kit is an outdoor education game that helps adults teach kids how to be "good hikers" — how to have fun in our beautiful Colorado outdoors while staying safe and treading lightly on the environment. Like Mile High on the Cheap, it's Colorado born and bred. I invented the Kit when my young nieces came to visit me in Boulder. I wanted them to be safe on the trail, but I didn't want to scare the heck out of them with tales of wildlife, so I turned it into a game. They are very proud to be the first Certified Good Hikers, and they know how to handle themselves outdoors. You can read more about Good Hiker and our first hike in Rocky Mountain National Park.
The official start of Spring today means more hiking soon! So I'm giving away 100 Certified Good Hiker Kits. To get one:
1. Share Good Hiker with friends: Like us on Facebook by clicking on the Facebook buttons in the upper left or lower right corner of this page or the Facebook tab on the toolbar below (or just go to Facebook.com/GoodHiker). While you're there, share a few words about GoodHiker with your friends! Send them on over here for their own free Kits.
2. Ramble on over to the order page here and use the discount code "spring" to get your free Certified Good Hiker Kit.
3. (Optional, but appreciated!) Tweet this post using the Tweet button upper right.
Thanks, and Happy Spring!
Catherine