Do you email from the trail? Tweet about the birds you've just heard? Check your iphone or Blackberry while out in nature?
Do you find it unbearable to be disconnected? Or do you happily take a break from technology when you go for a hike?
A few years ago I spent two weeks rafting the Tatshenshini and Alsek Rivers in the Yukon and Alaska. Once we launched at Dalton Post, we had no contact with the "outside world" except for a couple of brief interactions with other rafters.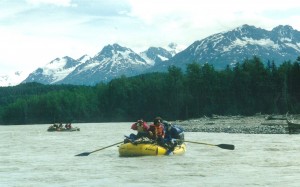 Each day my friend Kathleen and I perched on the front of our boat, cameras and binoculars in hand, and watched the water, the mountains,the sky, the wildlife on the riverbanks for hours on end (her husband Glenn rowed). We hiked up hillsides with no trails and across glaciers. Occasional encounters with wolves, grizzly bears and eagles punctuated our days. I was never bored. I never felt like I was missing anything by being so detached. We were on "river time."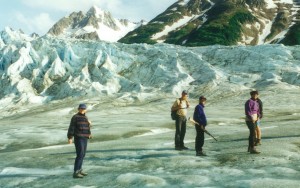 I took great pleasure in having left behind an outgoing voicemail message: "I'm off to the Yukon. Leave a message."
I wonder if I could do that trip again today, without my netbook and my cell phone.
A New York Times series, Your Brain on Computers, is looking at how a "deluge of data can affect the way people think and behave." Does multitasking fatigue the brain? And can nature help?
In one article, Matt Richtel writes about a five-day Utah rafting trip on which five neuroscientists contemplated how technology affects our behavior and thinking, and how a nature trip could possibly reserve those effects. Two of the scientists, writes Richtel, believe that technology use can "inhibit deep thought and cause anxiety, and that getting out into nature can help."
Mr. Strayer, the trip leader, argues that nature can refresh the brain. "Our senses change. They kind of recalibrate — you notice sounds, like these crickets chirping; you hear the river, the sounds, the smells, you become more connected to the physical environment, the earth, rather than the artificial environment."
Others on the trip are not convinced. But by the third day, even the most skeptical are slowing down, becoming quieter and more contemplative. While paddling, they brainstorm about new avenues of research. They  acknowledge that, out on the river, "something is happening to their brains that reinforces their scientific discussions — something that could be important to helping people cope in a world of constant electronic noise."
How long those brain effects might last is anyone's guess. My friend Gail Storey, who spent six months hiking the Pacific Crest Trail with her husband Porter, sans electronics, says in her blog that, "Immediately after our return, we were able to make a series of complex decisions with refreshed analytic powers as well as trust in the spontaneous flow of life. Our lives changed in ways we were suddenly ready for."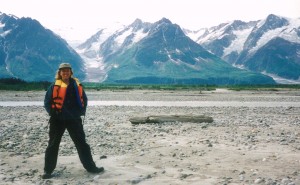 Short-term or long-term effects, I certainly believe we all need our time in nature.
I can very happily and easily disconnect for a day hike. I bring a cell phone only for emergencies. I don't listen to music; I listen to the streams and the wind. Of course, it's pretty easy to connect to nature, living in Boulder. I can walk out my door and be on a trail in ten minutes. It's certainly easier than when I lived in Manhattan. But I wonder if I could do it for two weeks again.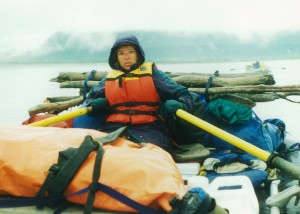 After two weeks on the river in Alaska, a small plane met us and flew us to Yakutat, Alaska, for a few days of gentle re-entry. We found we hadn't missed much. The macarena dance craze. Tragic news of an airplane crash. Nothing that we needed to know about while we disconnected and recharged our lives.
On a recent trip to Moab, Utah, I spent the first evening uploading pictures of the day's adventures to Facebook. Moab Day 1, I called it. I never posted days 2, 3, or 4. Instead, we spent our evenings outside, talking, drinking wine and watching the sky. Looking for shooting stars had very quickly become much more important than Facebook.
Are you able to disconnect from the world when you go for a hike? Is it difficult? Do you find yourself checking your email as soon as you reach the car?