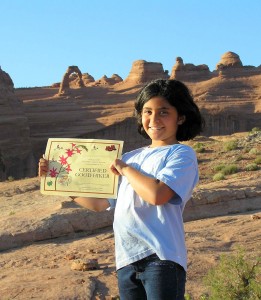 GoodHiker.com is here to help you and the kids in your life get outdoors and have fun hiking — while staying safe and comfortable and minimizing your impact on the environment.
Teach your kids to be Good Hikers with the Certified Good Hiker Kit. It includes a fun fill-in-the-blanks "class" that  introduces kids to the basic guidelines of hiking and trail manners: what to bring on a hike, why it's important to stay with your group, and why you shouldn't try to feed those cute furry animals. It also includes a guide for adults who are leading the activity. Best of all are the cool certificates that declare each kid to be a Certified Good Hiker! Order the Certified Good Hiker Kit here.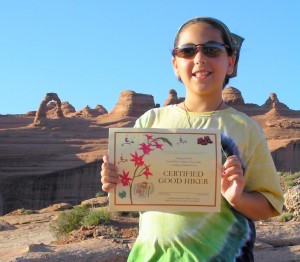 The original Kit was developed for my nieces when  they first visited me in Colorado. They are now very proud to call themselves Certified Good Hikers! (These photos are from a recent hike we did in Arches National Park.)
This site also features a blog about hiking and related environmental issues, as well as lots of resources on hiking (trail guides, etc.) and the environment. If you have any resources you'd like me to include, or other ideas for the site, please get in touch! Write me at Cathy@GoodHiker.com.

Happy Hiking!